What a year 2022 has been! A round up from Faye:
We began the year with Laura Jakubowski completing her fundraising challenge. A sit down cycle which was amazing and raised much needed funds for Leigh Network. Laura sadly lost her fight to mitochondrial disease in July. She is so missed ❤️
Robyn a student from Manchester University joined the team to do some volunteering on our social media 🙌🏻
In spring we took part in the ENMC International Workshop on Leigh Syndrome which Leigh Network supported through donations to Newcastle University. ✅
We attended A Brush with Comedy exhibition/auction which involved Vic Reeves and other comedy stars 🤩
Our monthly zoom meetings have continued since the pandemic began. These offer families and those affected by mitochondrial diseases a chance to talk to others in a similar situation.
We have also launched our Angel Support Group for those who have lost somebody to mitochondrial disease. ❤️‍🩹
We have raised awareness on many different issues and of course Mitochondrial Diseases.
In August we had our first ever adult weekend in Manchester for those with mitochondrial disease which was fantastic!
In September we held a family day at Leicester Space Centre. It was so great to see everyone again 🤗
September was Mitochondrial Disease Awareness Week – we joined up with the Newcastle researchers and other charities from around the world to raise awareness with a twitter takeover.
During Mitochondrial Awareness Week Mandy started her 1000 mile challenge. Follow her journey with us as she aims to complete the challenge by August 2023.
In October we raised funds and awareness of mitochondrial disease at Hulme Hall flea market.
Also in October one of Leigh Networks Mito warriors Katie Maj took on a phenomenal month long challenge of boxing, trampolining, cycling, walking, dancing and many other exercises raising over £1200!! 👏🏻
We registered the charity on Ebay. You can now raise funds for Leigh Network on EBay as well as the other platforms such as Give as you Live, Amazon Smile and EasyFundraising. All you need to register is our charity number: 1184735
Thank you to everyone who has supported us this year. We look forward to seeing you in 2023 as we continue raising awareness, helping research and bringing together families affected by mitochondrial diseases.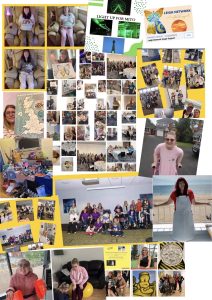 Photo description: a large selection of photos in a collage, all connected to everything described above. Children, adults and families smiling enjoying the space centre, the weekend in Manchester, people doing their fundraising activities, Light up for Mito monuments bathed in green light.